Ottawa Emergency Dentist
In case of a dental emergency, make sure to follow the appropriate steps or give us a call and contact our Emergency Dentist in Ottawa.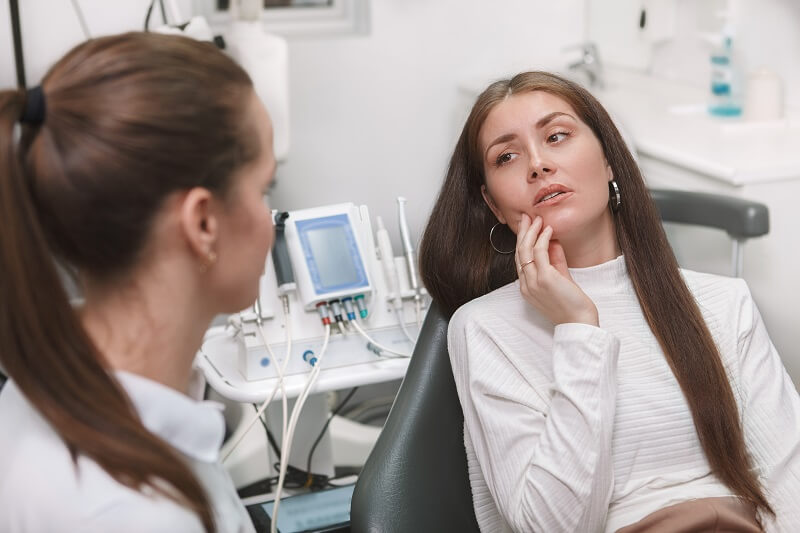 It can happen in an instant; you chip a tooth while eating, knock out, or break a tooth while playing sports. Maybe a toothache hits you overnight or the weekend. These are all dental emergencies that require immediate dental care. If ever you find yourself in such a situation, you want to get help from an experienced emergency dentist in Ottawa. Our experts at College Square Dental can provide you with exactly the help you need.
While speed is obviously of the essence in emergencies, our team at College Square Dental guarantees you that we will not sacrifice the quality of our care to just 'fix you up.
In case of a dental emergency, make sure to follow the appropriate steps (see notes below) and give us a call. Once our staff has booked your appointment, our group of dental professionals will be prepared to treat a wide range of dental emergencies. Listed below are a few examples of situations where we can help. If ever you are faced with any of these, do not hesitate to contact us right away.
When To Seek Emergency Dental Care in Ottawa
Generally speaking, a dental emergency occurs when a dental problem develops that requires immediate treatment to either alleviate pain, save a tooth or stop bleeding in your mouth. This includes a variety of scenarios, from broken braces or lost crown to chipped, broken or knocked out teeth. The following are brief descriptions of a few common dental emergencies:
Broken braces: There are a variety of ways that braces can break, ranging from unpleasant to dangerous. For example, a bracket can become loose and dangle on the wire. This is mostly just irritating, but still requires immediate fixing. A more dangerous malfunction is a loose or broken wire that can puncture your cheek or gum. Whatever the case may be, broken braces require immediate repair to prevent further damage to the braces and to your teeth.
Loss of crown or filling: Sometimes fillings or crowns can simply fall out. This is not unusual and can be caused by a variety of things. For example: a crown or filling can develop a cavity that has progressed to the point where the tooth has changed shape and the filling or crown no longer fits. The first thing you should do in this case is to try to retrieve it. Your emergency dentist in Ottawa may be able to clean it and put it back in, saving you the cost of a new replacement. The next step is to call your emergency dentist in Ottawa and make an appointment to replace the missing crown or filling as soon as possible (to prevent further damage to the already fragile tooth).
Broken or knocked-out teeth: As a hockey nation, Canada has its fair share of knocked out teeth. But hockey (and sports in general) is not the only way you can break or knock out a tooth. Accidents can happen anytime, anywhere. Whatever the circumstances may be, try and find the knocked-out or t broken tooth, right away. We just may be able to save it!
Here is what to do after a tooth has been broken or knocked out :
Rinse your mouth with warm water
Try to stop the bleeding and swelling inside your mouth with a piece of moist cloth or gauze and apply gentle pressure to the wound
Apply a cold compress to the outside of the mouth to minimise the swelling
Once you find the broken tooth, place it in a cup filled with milk or your saliva.
Important: hold the tooth only by its crown, never by its root!
Injuries to tongue or gums: Any injury to the mouth area, including lips, gums, and the interior of your cheeks may because to seek out your emergency dental care in Ottawa. Make sure to clean the affected area from any blood and apply pressure (to stop or at least slow the bleeding) before contacting your dentist.
(Severe) Toothache: The most common causes of severe toothaches are cavities, infections or structural damage to your teeth. Whatever the cause of your severe pain may be, it is important to contact your emergency dentist in Ottawa as soon as possible, to prevent increased discomfort and unwanted complications.
Post-Emergency Treatment
Treating the immediate problem on hand is only part of the solution in any dental emergency situation. This is why we will always make sure to follow up with you later – to resolve whatever the problem may be to your complete satisfaction and more permanently. At
College Square Dental
, we know that post-emergency care is almost as important as the emergency intervention itself. We will book follow-up appointments, ensuring that your recovery is on track, and we will help you find satisfactory long-term solutions, whenever possible.
Whatever your dental emergency may require, our experienced team of emergency dentists in Ottawa will take great care of you.
Contact College Square Dental For Emergency Dentistry in Ottawa
We sincerely hope that you never have to face any dental (or other) emergency, but if ever you do, the experts at College Square Dental are ready and able to provide reliable, high-quality help whenever you need. Please, do not hesitate to contact your emergency dentists in Ottawa at 613-695-4877 right away.